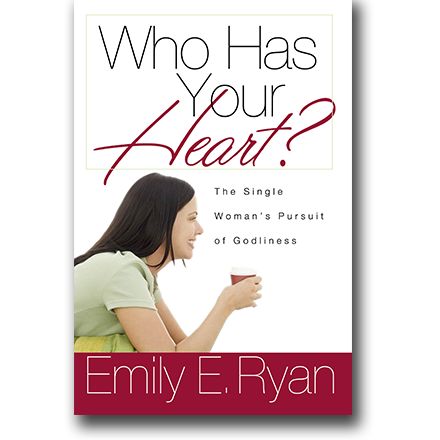 Who Has Your Heart? is not just another study about a godly woman who teaches how to be single.  Rather, it's the study of a single woman who teaches how to be godly.
By exploring the little-known story of Jephthah's daughter in Judges 11, Who Has Your Heart? introduces single women to the scriptural heroine they have been waiting to discover.  A refreshing blend of Old Testament principles mixes with modern-day humor and anecdotes to present singles with a role model who not only shares their status, but who also understands their hearts.  Single women of all ages will connect with "JD" from the moment she emerges dancing and shaking her tambourine, until the final chapter when they are left asking, "Why have I not heard about this woman before?"
Who Has Your Heart?
LOVED IT!! a must read. I'm sharing it with every woman I know.
By Maraly on March 13, 2013
I knew this book was a keeper after reading the first chapter. In it she says about "JD", "she's not simply a godly woman who teaches us how to be single. Rather she's a single woman who teaches us how to be Godly." It's so important that everyone (single, married, divorced, widowed) remember that we are Christians FIRST. Before whatever relationship status we have, we are Christians first and our relationship with God will always be paramount. So I was very happy to read she would focus on that in the book. I have greatly enjoyed the book, I'm almost done with it. It's taken me a while because I committed myself to using the Study Guide at the end of each chapter. I've learned from more chapters than others, but I've agreed with 100% of what she's written. It is a MUST have for EVERY woman. It's not like another of "single woman" book you'll read. Definitely a unique and necessary read.
Who Has Your Heart?
Best book I ever borrowed!
By Jordan C. on January 17, 2013
One of my Bible study leaders (for young adults, who herself is single and "not so young anymore) brought in this book one night, among others, and it caught my eye. I'm 24 and one of those "forever-single" girls; never had a boyfriend, only been one one date in my entire life, etc. You get the idea. Anyway, I was excited to start reading this book. From the get-go, I could tell that I was going to like it. Everything Emily wrote, the thoughts about being single, the slight bitterness you feel when someone else gets engaged and you are STILL single, the comments from others about being patient and waiting for God's timing, it all hit home and I was so glad! I've never read a book that so closely spoke to my heart about the matter! Now I've been raving about it and want all my single friends to read it! I'm definitely going to be ordering a copy for myself. 🙂 GREAT read!
Who Has Your Heart?
Unnamed, Unmarried, Unshakable Heroine
By Wendy Sparkes on August 16, 2011
A great scripture heroine for singles!
Like Emily Ryan, I have read lots of books about the single life by both married & single authors. Also like Emily, I like to look at the ladies of the Bible & learn from them...& came to the same conclusion, they're married! - Sarah, Hannah, Ruth, Elizabeth, Rahab, The Proverbs 31 Woman, & Mary the mother of Jesus to mention a few. Unlike Emily though, I didn't pick up on this woman. Although I'd read her story before, I'd never picked up its significance.
Emily says she wanted: "A woman to imitate. A lady to admire. A heroine to learn from...Someone to teach about being a single woman because she was a single woman, not simply because she'd 'been there'". Emily found her in Judges 11 - the unnamed, unmarried, & unshakeable girl known only as Jephthah's daughter.
Oh, what a girl! Jepththah's daughter (JD) has become one of my favourite Bible characters. Her story is truly inspirational. As Emily leads us through JD's story she also tells of her own stuggles that she had to face, how JD's story helped her, & how JD's story can help us.
A story that will touch your heart.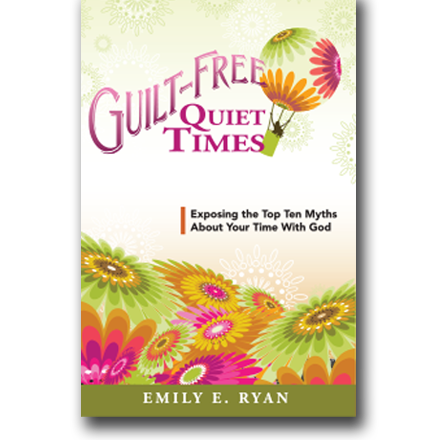 Guilt-Free Quiet Times
"This book will leave you laughing out loud, nodding your head in agreement, and wanting more!" – R. Aronson
When it comes to your quiet time, it's time to say no to someone else's rules or magic formulas that work perfectly for him or her but only create chaos and guilt in your own life. With the perfect blend of sarcasm and Scripture, Emily Ryan exposes the most common myths about traditional quiet times and gives you the freedom you need to chase after God in your own unique way. The book includes small group discussion questions and an exhaustive list of practical ideas that will help you get to know God rather than get to know how to have the perfect quiet time.
Guilt-Free Quiet Times
After devouring
Guilt-Free Quiet Times
in one sitting, I couldn't help thinking, "Where was this book when I was a young Christian?" Wise beyond her years and witty, too, author Emily Ryan has written a book that will enrich and expand your relationship with God and expose and expel the myths that have inhibited your intimacy with Him.
I've waited a long time for a book like this
, and (trust me) so have you. Get the book. You'll thank me, and you'll thank God for Emily.
Laurie Cole
President, Priority Ministries
Guilt-Free Quiet Times
Every page is power-packed with wisdom, sprinkled with sarcasm!
From the time I picked up the book Guilt-Free Quiet Times: Exposing the Top 10 Myths About Your Quiet Time With God by Emily Ryan, I was unable to put it down. Every single page of my book is now highlighted with "wow"... as I found the book powerful and true. The book is fun to read and right to the point. Every page is power-packed with wisdom, sprinkled with sarcasm!
The Top 10 Myths in this book will unburden the heart of every Christian woman. Pressured to be good Bible study girls, focused and silent, sinless and pure..it is any wonder why so many women feel the oppression of living up to Christian standards. We create so many expectations for ourselves- rooted in perfection- that we miss the true value of knowing Jesus. Some women quit before they begin, looking at the "standards" as an impossible ladder to climb.
Within the pages of this small book you will find answers to these 10 myths. You'll discover how to create time for God, along with a list of 47 Guilt-Free Quiet Time Ideas. I highly recommend reading this fun little book. Better yet, read it with your best friend and then meet at a local coffee or tea shop once and week and review the discussion questions from the back of the book. This is a terrific book to give as a gift to a Christian woman and also to yourself.
By Christine Abraham VINE VOICE on January 9, 2014
Guilt-Free Quiet Times
By Maggie M on January 9, 2014
Guilt-Free Quiet Times
Hope for the Quiet Time failure
Hi, I'm Angie and I'm a recovering Quiet Time failure. Emily's "Myths" spell out exactly how I grew up understanding a Quiet Time to be… I have wrestled with these myths that Emily confronts with truth and learned the greatest gift of my faith is grace… Guilt-Free Quiet Times is a refreshing reminder that every day in the Christian faith doesn't look the same… Thank you Emily for reminding me of these truths!
Angie Gillikin
Guilt-Free Quiet Times
This book will leave you laughing out loud, nodding your head in agreement, and wanting more! I am glad to know that I'm not alone with my feelings of guilt when it comes to quiet time AND that I no longer have to feel guilty!
Rebecca Aronson
Guilt-Free Quiet Times
Through encouragement and often witty humor, this fun read speaks on how to create a genuine and quality personal relationship with Jesus Christ. Because Emily has listed so many applicable and out-of-the-box ways to create quality time with Christ,
this is a must-read for women in all stages of their walks

.
Linda Holmes
Guilt-Free Quiet Times
The Bible says we are free in Christ and this book reminds us that that is true in our quiet times, as well.
Jennifer Pietsch
Glo
'glo: to give God glory
When your desire to give God glory and priority becomes buried under the everyday demands of life, these bite-sized devotions are simple enough to swallow in one quick escape, but rich enough to linger in your soul throughout the day. With equal parts inspiration and application, Emily E. Ryan and Laurie Cole share the best of their books, Bible studies and blog posts in this easy-to-read daily format that will help bridge the gap between the desires of your heart and the demands of your life.
Buy