5 unlikely benefits of listening to the Bible
Several months ago, I completely re-engineered my Bible reading plan. One of the changes I implemented is that instead of just reading my Bible, I started listening to it as well. I have the YouVersion app installed on my Kindle, so whenever it's time to read, I pull up the day's passage, press the Play icon, and follow along as Mr. Narrator reads to me.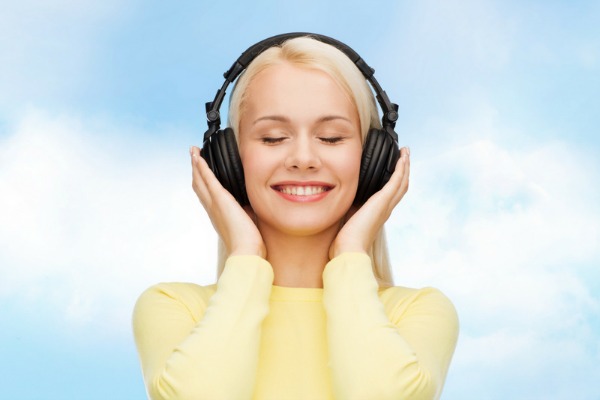 I think it's important to change things up every now and then to avoid falling into a meaningless routine, and this change has breathed new life into my quiet times! If you've ever considered listening to the Bible instead of (or in addition to) reading it, I would highly recommend it! After doing so for several months, I'm sold on the benefits!
1. It lets someone else pronounce the hard words!
Don't get me wrong. I like challenging my lips to untwist the name "Hazarmaveth" as much as the next guy, but witnessing someone else wrestle with ancient Hebrew baby names is so much more fun! So go ahead, Narrator. Tell me about the ancestors of Joktan while I sit here and demand that my lips do nothing more than sip my quiet time cup o' java. After all, you make it sound so easy! "Joktan was the ancestor of Almodad, Sheleph, Hazarmaveth, Jerah, Hadoram, Uzal, Diklah, Obal, Abimael, Sheba, Ophir, Havilah, and Jobab. All these were descendants of Joktan" (Gen. 10:26-29 NLT).
2. You get awesome "pay attention" music.
It happens all the time in church. The preacher begins bringing his message to a close when suddenly decision music begins playing softly in the background like a heavenly elevator soundtrack. You didn't even notice the worship ninjas sneak onstage and grab their instruments, but there they are, engineering the atmosphere for a spiritual climax with their keyboards and guitars.
When you listen to the Bible, worship ninjas are built right in. Just when you least expect it, music begins playing on top of the narration and you know one of two things is happening. Either something significant is going on, like God is about to make a covenant that will shape the entire Old Testament, or the narrator is about to read a popular passage, like Psalm 8 or Psalm 23. Either way, your auditory reflexes have been triggered. It's pay attention time.
3. The voices. Oh, the voices.
I don't know who showed up late to work the day the voice for Satan was cast, but I have to say that the temptation of Jesus in Luke 4 is much more realistic because of him. Multiple voices bring depth to the listening experience and make certain stories easier to follow.
You should know, however, that this is where the world is your holy oyster. Since I'm currently listening to the New Living Translation, the voices are minimal and it's mostly single-narration and easy listening. It's perfect for what I want right now. But if you believe (as I do) that a British accent sounds more spiritual, you can choose a Max McLean narration. Or if you're a sci-fi fan, you can even have a Darth Vader (James Earl Jones) narration. But if you really want the holy grail of Bible listening experiences, choose a Bible dramatization instead of a narration. That's where you'll get multiple voices, full orchestration, and the most dramatic sound effects.
4. You know ahead of time if you have the time.
Psalm 119 is the longest chapter in the Bible with 176 verses, and it takes exactly 14 minutes and 52 seconds to listen to the whole thing. Psalm 117 is the shortest chapter of the Bible with just two verses, and it takes exactly 16 seconds to listen to the whole thing. Fifteen minutes vs. 16 seconds. That kind of information is extremely helpful to know ahead of time before you commit to read an entire chapter, and with the audio Bible, you know ahead of time if you have the time.
Each chapter is its own audio track, so the moment you press the Play icon, you can see how long the track is going to last. Can you make a 2:32-minute commitment to Colossians 4 during a bathroom break at work? Sure! No sweat! But get mixed up with the likes of Genesis 24 at 9:27 minutes and your coworkers are going to wonder if you have stomach problems.
One of the main reasons why people don't read their Bibles more often is because they think they don't have time. But the truth is, the reason they don't think they have the time is because they don't really know how much time it takes. When you begin to see that the Bible doesn't take hours to read – that it really just takes 3 minutes here, 7 minutes there – you discover that you do have the time after all.
5. Your eyes and your ears are engaged. It's a day dream's worst nightmare.
I love to read, but even my mind wanders sometimes. I can only imagine how difficult it must be for people to whom reading does not come easily. Thankfully, study after study shows what God's Word has already taught us: that there is power in listening. "So then faith comes by hearing, and hearing by the word of God" (Romans 10:17 NKJV).
Listening is more passive than reading, so it takes less brain power. And when the burden on your braid to read and comprehend words is lifted by your ears, you have more brain power to engage your imagination. And when your imagination is engaged, that's when God's Word really sinks in. So say good bye to mental distractions! Your grocery list has interrupted your quiet time for the last time!
Have you ever listened to the Bible? What benefits did you experience?
This post contains affiliate links. Click here for the disclosure policy.