5 Prayers to Pray Over Your Kids Before School
T
his morning marked a huge milestone in the Ryan House – our oldest son, Gideon, started Kindergarten!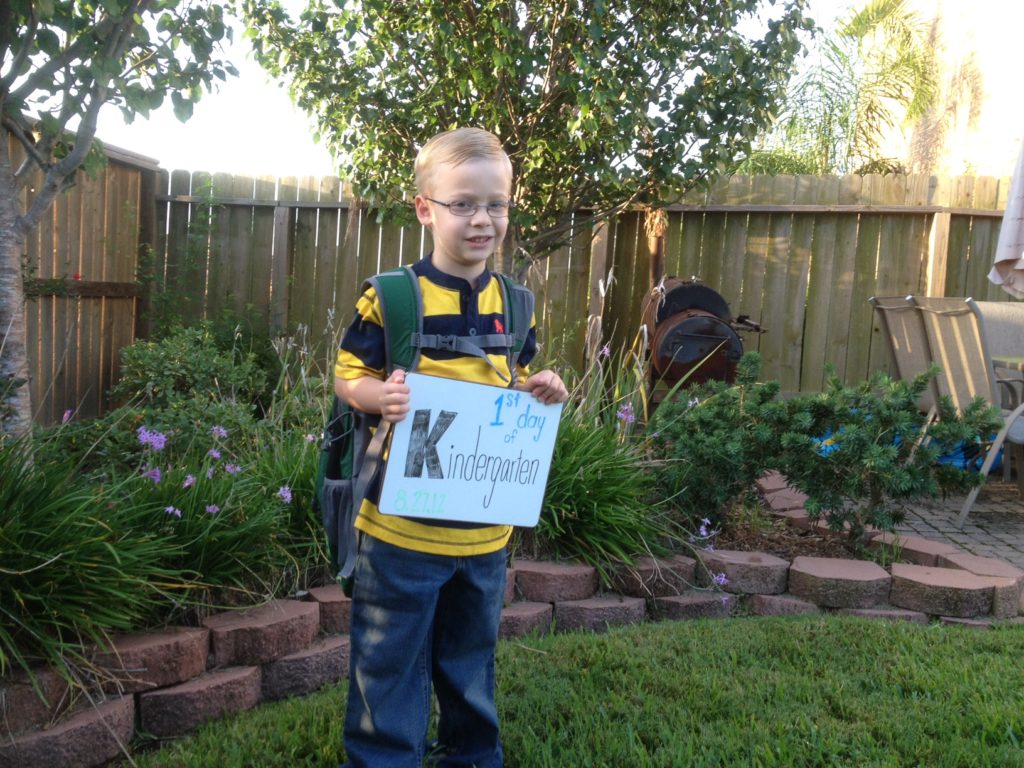 I've been through all of the typical emotions that moms have when they drop off their "babies" at school for the first time, but the truth is, I've been a bit nervous about this all summer. Until now, I've been able to keep Gideon in this safe, secure, protected bubble in which the only outside influences he's had on his life have been through family members or church friends. So there's a part of me that halfway expects him to come home from his first day outside the safe bubble (you know, public school!) cussing like a sailor, fighting with his brother, and asking about sex.
Irrational. Illogical. Dramatic… I know. But it's still enough to make a first-time school mom hesitate.
But rather than allow these irrational fears to fester, I've spent the last few months trying to channel them into something productive instead. Yes, we have to let our children go. Yes, parenting is a journey in which you guide another individual toward independence. But thankfully, God gives us instructions on how we should do this.
You (and I) don't have to send our children out into the scary world of public school empty-handed. In fact, there are two essential things we can send with them, and here's what makes them so powerful: they're both weapons!
Have you ever seen this sign at a school before:
Well, just disregard it! Because weapons are exactly what your child needs!
"Take…the sword of the Spirit, which is the word of God. And pray in the Spirit on all occasions with all kinds of prayers and requests." (Eph. 6:17-18)
When Paul talks about the Armor of God in Ephesians 6, he mentions two offensive weapons that every believer is to equip himself with:
The Word of God. 
Prayer
We need to equip our children with these weapons as well, and one of the best, most practical ways to do this is by praying God's Word over your child.
So here are five ready-made prayers straight from Scripture that you can use to pray over your child. I suggest doing this out loud, in the presence of your child, so that he or she can hear you praying. This can be done at bedtime the night before school, or in the morning on your way to school. You can also repeat these prayers on your own throughout the day.
(Note that the prayers include verses of praise in addition to requests for blessings. This was very intentional. By hearing you praise God for who He is, your child will not only learn more about God, he/she will be more likely to develop a spirit of praise and thanksgiving him/herself. To use the prayers, simply insert your child's name in the blank and specify the correct gender.)
Blessings to you and your kiddos!
---
MONDAY
Dear Heavenly Father,
Thank you, Lord, that you are near to all who call on you in truth. You fulfill the desires of those who fear you; you hear their cries and save them. Thank you God for watching over all who love you (Psalm 145:18-20) Now I pray that ___ would not be anxious about anything, but in every situation, by prayer and petition, with thanksgiving, that he/she would present his/her requests to you, God. And I pray that your peace, which transcends all understanding, will guard his/her heart and mind in Christ Jesus. (Phil. 4:6-7) For you, o Lord, are righteous in all your ways and faithful in all you do. May our mouths speak in praise of you, and may every creature praise your holy name for ever and ever. (Psalm 145:17, 21) Amen.
---
TUESDAY
Dear God,
Thank you that you understand the way to wisdom. You alone know where it dwells, for you view the ends of the earth and see everything under the heavens. (Job 28:23-24) So if ___ lacks wisdom, I pray that he/she would ask you, God, who gives generously to all without finding fault, and it will be given to him/her. But when he/she asks, I pray that he/she would believe and not doubt, because the one who doubts is like a wave of the sea, blown and tossed by the wind. (James 1:5-6) Now we praise you, Lord, for blessed are those who fear you and who find great delight in your commands. (Psalm 112:1) Amen.
---
WEDNESDAY
Dear Lord,
Walking in the way of your laws, we wait for you; your name and renown are the desire of our hearts. Our souls yearn for you in the night, and in the morning our spirits long for you. (Isa 26:8-9) With this in mind, I constantly pray for ___, that you may make him/her worthy of your calling, and that by your power you may bring to fruition his/her every desire for goodness and his/her every deed prompted by faith. I pray this so that the name of your son, our Lord Jesus, may be glorified in him/her, and he/she in you, according to your grace. (2 Thes. 1:11-12) Now to the King eternal, immortal, and invisible, to you, the only God, be honor and glory for ever and ever. Amen. (1 Tim. 1:17)
---
THURSDAY
Dear God,
Righteousness and justice are the foundation of your throne; love and faithfulness go before you. Blessed are those who have learned to acclaim you and who walk in the light of your presence, Lord. (Psalm 89:14-15) And this is my prayer for ___: that his/her love may abound more and more in knowledge and depth of insight, so that he/she may be able to discern what is best and may be pure and blameless until the day of Christ, filled with the fruit of righteousness that comes through Jesus Christ—to the glory and praise of you, God. (Phil. 1:9-11) For we rejoice in your name all day long and celebrate your righteousness. You are our glory and strength, and by your favor you exalt our horn. (Psalm 89:16-17) Amen.
---
FRIDAY
Dear Heavenly Father,
Our frames were not hidden from you when we were made in the secret place, when we were woven together in the depths of the earth. Your eyes saw our unformed bodies, and all the days ordained for us were written in your book before one of them came to be. (Psalm 139:15-16) Thank you for creating ___. I pray that no one would look down on him/her because he/she is young. Instead, I pray that he/she would set an example for the other believers in speech, in conduct, in love, in faith and in purity. (1 Tim. 4:12) For you created his/her inmost being; you knit him/her together in his/her mother's womb. We praise you because we are fearfully and wonderfully made. (Psalm 139:13-14) Amen.