The #1 thing to avoid in your quiet time
Seven years ago, my husband gave me a 90-day devotional by Beth Moore. Today, this is what I read: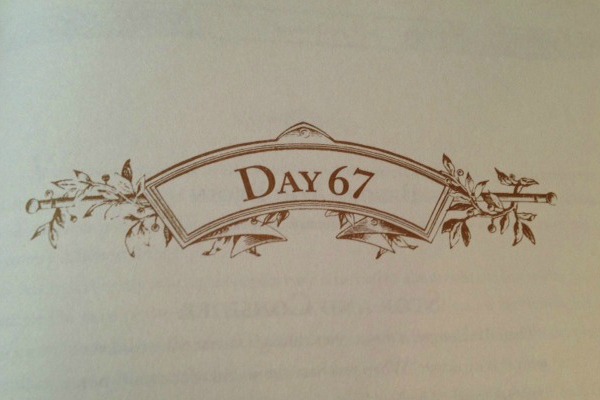 Now, just so you don't accidentally get the wrong idea, this is not my 28th time to read Day 67. If I had been holier or more diligent or perhaps a better Proverbs 31 woman, I would have executed my 90-day devotional plan so flawlessly that I would have been able to start it again after three months and repeat the perfection faithfully 27 more times by now.
But no. In seven years, this was my FIRST time to read Day 67.

I've really enjoyed this devotional. It starts with a Bible passage and key verse, then follows with a few questions, some commentary, and a whole page just for journaling each day. By many people's standards, when I complete a day's reading in this book, I've had a perfect quiet time.
So, does my progress (or lack thereof) in this book mean that I've only had 67 quiet times in the past seven years? Does it mean that I've only connected with God 67 times or followed His commands 2.6% of the time?
Absolutely not.
The truth is, I've grown over the past seven years. A lot. I've hidden in the bathroom with my Bible on my iPhone and sneaked in a few verses while my kids banged on the door. I've turned off the radio and prayed in my car when I finally had five minutes to myself. I've gone to bed early and repented for being such a wicked witch to my husband. I've cried out to God from a hospital, a cemetery, a national park, a swing set, a hammock, my office and my laundry room.
Yes, I have a long way to go.
But I've also come so far.
You may not be the queen of perfect quiet times. You may have started your one-year Bible on Jan. 1st and stalled out somewhere around March. Your eyes may glaze over when your read "so-in-so begat so-in-so." You may not know Hebrews from Shebrews.
But none of that really matters. The question is not: Are you having perfect quiet times? The question is: Are you growing?
When it comes to your quiet time, perfectionism can be your worst enemy. First it turns into procrastination, and eventually it turns into paralysis.
Any growth at all is better than spiritual paralysis. And the first step to avoiding procrastination and paralysis is to avoid the trap of perfectionism.
How do you avoid the trap of perfectionism in your quiet time?